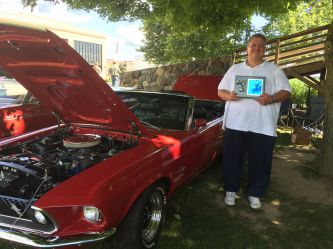 Click for Photos "Paul and his team at Mustang Craftsmen did an absolutely fantastic job on a full restoration of my 1969 Mustang GT Convertible. This has been proven out with multiple awards and trophies from various car shows and events. It not only looks great but runs and operates great as well. Everyone who sees the car, from novice car enthusiast to certified concourse judges, comments on the quality and correctness of the restoration. I'd recommend Paul and his team for any work on your restoration project."
Lee Paree, IT Manager
Chicago, IL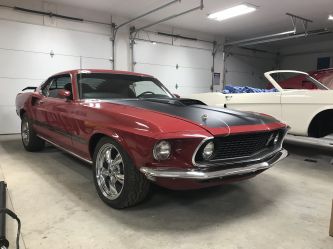 Click for Photos "When I brought my 1969 Mach 1 to Mustang Craftsmen, it was really in bad shape. I had bought it on eBay without the ability to look it over well. Most of the body had severe decay from rust, including the floor pan. Someone else had tried to do body work on it, and it looked like they didn't know what they were doing. In addition, many of the necessary parts (glass, wiring, electrical system, and interior) were missing. To make matters worse, they also found frame damage as the car was disassembled. Some from rust, but also from a previous accident. Part of the frame had to be replaced.
"None of this deterred Paul and the staff at Mustang Craftsmen. They went to work fixing the frame, working on the body, and finding the necessary parts. As the after market body panels came in, they had to be modified to fit because they are not made from the original tooling and press force.
"Slowly, but surely, the car was transformed from a wreck into a thing of beauty. The car is absolutely gorgeous. Top notch work from the body reconstruction, to the paint, to the mechanical systems, to the interior. I can't thank Paul and the staff at Mustang Craftsmen enough. Simply awesome work."
Lee Aho, Hitachi Automotive Systems
Farmington Hills, MI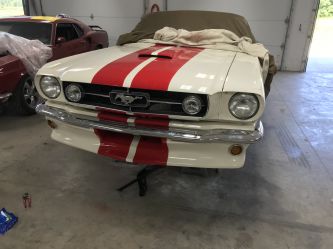 Click for Photos "While witnessing the restoration on my son's 1966 Mustang coupe, I just couldn't wait for there to be an opening at Paul's place, so I could have him start the much anticipated restoration of my own 1965 Mustang convertible. From the moment that I dropped the vehicle off to present, it has been a fascinating process. I cannot say enough about the professionalism and craftsmanship of the folks that work here. It has been an absolute pleasure doing business with Paul. He explains in absolute detail everything that will need to be done and how he will do them. It has also been a great learning experience, as Paul has a wealth of knowledge concerning the Ford Mustang.
"I am ecstatic with the results thus far and cannot wait to see the finished product! I wouldn't even consider anyone but Mustang Craftsmen shop for future projects! As you can see on the web site, the vehicle he is presently working on for me is nothing short of amazing! And exactly what I asked of him."
David J. Green, Construction Manager
Cleveland, OH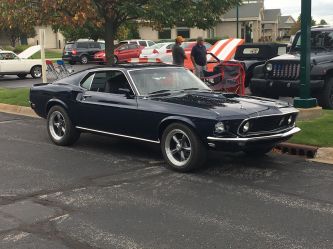 Click for Photos "Paul and his team are fantastic craftsmen. They really make the experience special for each individual. The transformation of my vehicle was beyond my expectations. Whether the job is small or large, Paul and his team make it happen!"
Jim Reeves
Grand Rapids, MI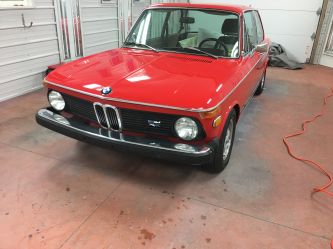 Click for Photos "Thanks for doing such a good job. The pictures you sent along with your messages of my car looked really great. Scott Dodge was right about you and your company - absolutely 1st rate. I will be sure to recommend your company to anyone needing restoration work. Many thanks for helping me get to the goal of finishing this car and checking off a big item from my 'buckey list'. All best wishes for continued success in the future."
Nick Smith, retired
Fenton, MI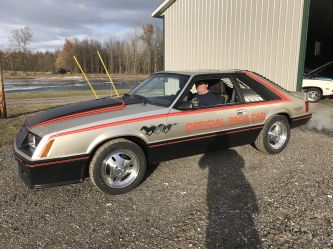 Click for Photos "I would like to thank Paul Beard and his staff for doing such an incredible job on my 1979 Mustang Pace car. I've owned this car for over 32 years, and I'm so glad I had Paul restore my car. The work that they do is second to none, the attention to detail is very impressive. I would definitely recommend Mustang Craftsmen for anyone looking for a high-end quality restoration on their Mustang. In my opinion, they are the best in the business!"
Joe Manor
Lansing, MI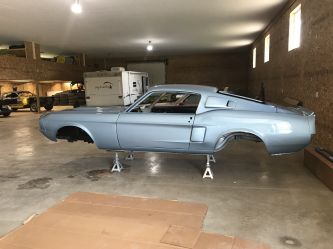 Click for Photos "Paul and his crew are one of the most meticulous crews I have met in the auto industry. I have been to many places and have witnessed the quality of work being done, and this by far surpasses. I brought in my 1967 Mustang fastback, and Paul gave me all the options along the way on direction of my build, with what I should or shouldn't spend my money on. Could not find a shop in Ontario, Canada that met my standards. You can go as far as full showroom condition, or metal and paint. A beautiful result for my Brittany blue Shelby conversion! I would highly recommend."
Michael Pawlak, Electrical Engineer
London, Ontario, Canada